Focus
At Goulburn Valley Grammar School our focus is on student learning, achievement and wellbeing.
The school is a learning community where we:
see our motto "Semper Ulterius" – 'Always Further' applying equally to students, staff and the school as a whole
aim to improve the lives of all our students through providing highly effective learning experiences
believe in the capacity of all students to learn
seek to promote a love of learning
strive to achieve at least one year's learning growth for each student each year
set high expectations for each student regardless of their starting point
aim to create positive relationships and a caring community based on mutual respect
welcome error and positive risk taking as learning opportunities
aspire to excellence and, when it is achieved, it is valued and celebrated
Our staff are crucial in setting and nurturing the school's positive culture. Our staff are a very accomplished team who are:
committed to the school's vision and values
passionate about teaching and learning
dedicated to professional growth
create powerful learning partnerships between students, teachers and parents
School Culture
One of the most important and unique qualities of Goulburn Valley Grammar School is the positive school culture.
The culture is one where students feel comfortable to be themselves, where they feel safe and secure, valued and appreciated.
It is a culture where there is a focus on, and love of, learning and where there is recognition that maximizing individual achievement is only possible through sustained effort in an environment where risk and error are seen as learning opportunities rather than failure. This positive culture has a number of important elements at its foundations.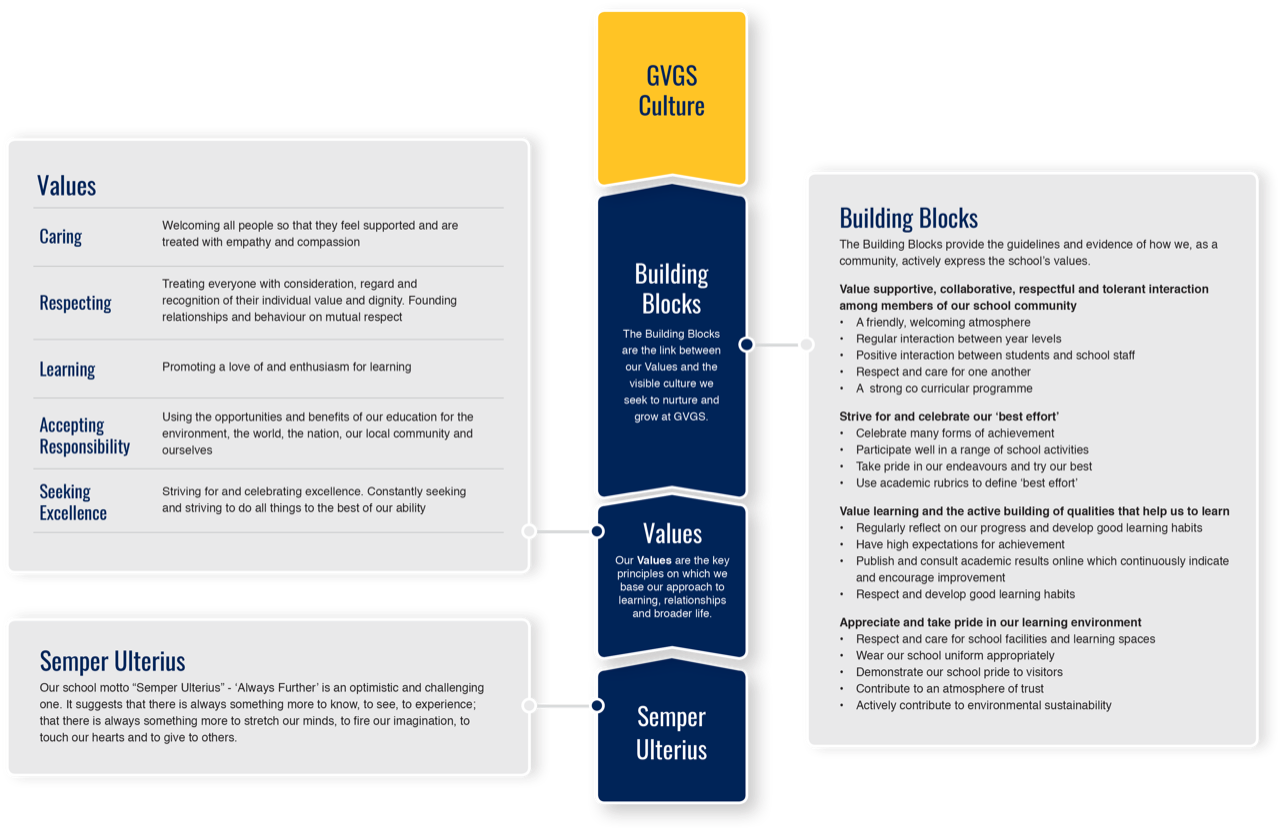 Values
Our Values are the key principles on which we base our approach to learning, relationships and broader life.
Building Blocks
The Building Blocks are the link between our Values and the visible culture we seek to nurture and grow at GVGS. They provide the guidelines and evidence of how we, as a community, actively express the school's values.
Motto
Our school motto "Semper Ulterius" – 'Always Further' is an optimistic and challenging one. It suggests that there is always something more to know, to see, to experience; that there is always something more to stretch our minds, to fire our imagination, to touch our hearts and to give to others.
Educational Philosophy
Our educational philosophy is influenced by the independent school tradition and features 3 key domains.
We contend that the interrelationship and synergy between each of these domains is crucial to a meaningful, positive and life-worthy education.